Esther Mahlangu / Contemporary art with purely African motifs and technique
This artist has achieved international fame in her later years. Born in 1935, Esther Mahlangu, a South African national, draws on a centuries-old tradition in Nelson Mandela's country to offer the world a most original pictorial art.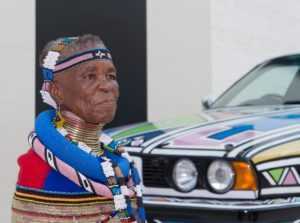 In South Africa, the people known as the Ndebele decorate their homes with mural paintings whose codes are culturally transmitted from mother to daughter. Cradled in this tradition, which teaches the forms, the technique of creating these forms, and the preparation of the pigments - usually mineral - the South African artist was apprenticed to her grandmother, then to her mother, before being discovered by museum institutions in her country and internationally. She was only 10 years old when she started learning what would eventually become her daily life: "painting is my life", she likes to say wherever she talks about this passion.
Un jour, travaillant sur une création en pleine air au Musée de Botshabelo, un des plus grands townships d'Afrique du sud, dans la province d'Orange, elle fait la rencontre d'un certain André Magnin, co-commissaire de la première exposition mondiale d'art contemporain. Le galeriste français l'invitera alors à exposer à Magicien de la Terre. Nous sommes en 1989 au Centre Bobourg, le monde découvrait alors une femme autre, auteure d'un autre art contemporain. Quant à l'artiste, elle était loin de s'imaginer que s'ouvrait pour elle, à partir de la France, les portes d'une carrière hors pair qui l'amènera à exposer dans le monde comme ambassadrice de sa culture : Allemagne, U.S.A, Japon, ailleurs en Afrique.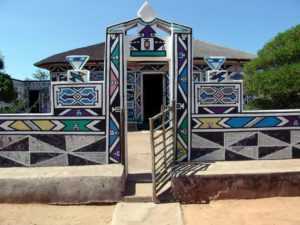 One day, while working on an outdoor creation at the Botshabelo Museum, one of the largest townships in South Africa, in the Orange province, she met a certain André Magnin, co-curator of the first world exhibition of contemporary art. The French gallery owner then invited her to exhibit at Magicien de la Terre. It was 1989 at the Bobourg Centre, and the world was discovering a different woman, the author of a different kind of contemporary art. As for the artist, she was far from imagining that from France, the doors of an outstanding career were opening for her, which would lead her to exhibit in the world as an ambassador of her culture: Germany, USA, Japan and elsewhere in Africa. BMW the motifs of the "African art car", thus adding his name in gold letters to the very short list of artists who have had a contract with this major German car manufacturer: Stella. F, David Hockney and the pop artist Andy Warhol. The painter will later work on the containers of some of the luxury drinks, painting the tails of British Airways planes and for other international firms.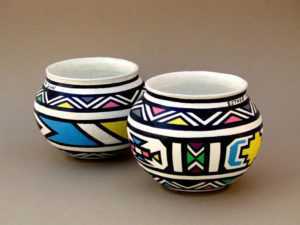 Thus, after having given us Shaka Zulu, an ancestor that all people would be proud to claim as a predecessor, the great 'freedom fighter'The late Nelson Mandela, father of all today's freedom-loving blacks, South Africa gives us a mother in this woman artist. Esther Mahlangu , Mom Esther, the embodiment, spokesperson and preceptor of the most authentic African aesthetic values, a worthy daughter of Africa and an ambassador of the continent's culture on the great stages of contemporary art throughout the world. Mom Esther, a rainbow work from the Rainbow Nation.
HAMIDOU IDRISSA Moussa
Africa by art
Photos DR
Share this news on our social networks!