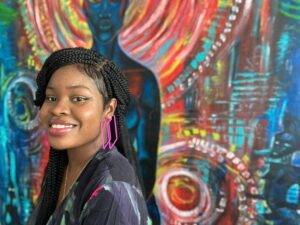 Maryse Mulumba
Maryse est une jeune artiste peintre plasticienne de 28 ans. Elle est née et a grandi à Evry Courcouronnes en France.
Deux grands moments marquants de sa carrière : son exposition au Carrousel du Louvre en 2019 lors de la 24eme édition de ART SHOPPING, le salon international d'art contemporain au coté d'artistes de renom français FEDERICI RAPHAEL, ABELLACHE FATIHA et son prix décerné par la ville d'Evry, qui l'a vu grandir et devenir une artiste autodidacte affirmée et épanouie.
L'Art a toujours guidé sa vie.
En 2012, après l'obtention de son baccalauréat professionnel de mode au lycée Gustave Eiffel de Massy-Palaiseau, elle suit des cours d'histoire de l'Art à la Sorbonne en 2013. Puis, elle décide de travailler tout un été dans une maison de retraite pour intégrer l'école international "Lim'art" Paris en 2014. Faute de pouvoir financer sa deuxième année au sein de cette prestigieuse école, elle est contrainte de stopper sa scolarité.
Toutefois, au lieu d'abandonner son rêve, elle continua à produire des œuvres encore et encore… jusqu'au jour où son art a rencontré son public.
Elle puise son inspiration dans ce qui l'entoure : tout et rien en même temps, exposition, rêve, histoire.
Maryse nous fait explorer son art à travers différentes techniques : dessin, peinture, techniques mixtes, sculpture et textiles de l'acrylique à la craie sèche ou encore du feutre posca, parfois du découpage et du collage avec comme médium principal la toile.
Elle s'initie également à l'utilisation des matériaux de récupération comme le bois ou du textile.
Aujourd'hui, Maryse souhaite que ses œuvres et son parcours soient une source d'inspiration pour les autres.
Share this news on our social networks!
Devenez un
artiste
de la Galerie ABA
Submit your application to ABA and benefit from career development support, including mentoring, personal coaching and one-on-one counseling with art market experts, collectors, and gallery partners. Our mission is to provide you with a toolbox to help you create value from your creations and to set the positive dynamic in motion through a professionalization process: you will benefit from technical assistance in personal branding and public relations..