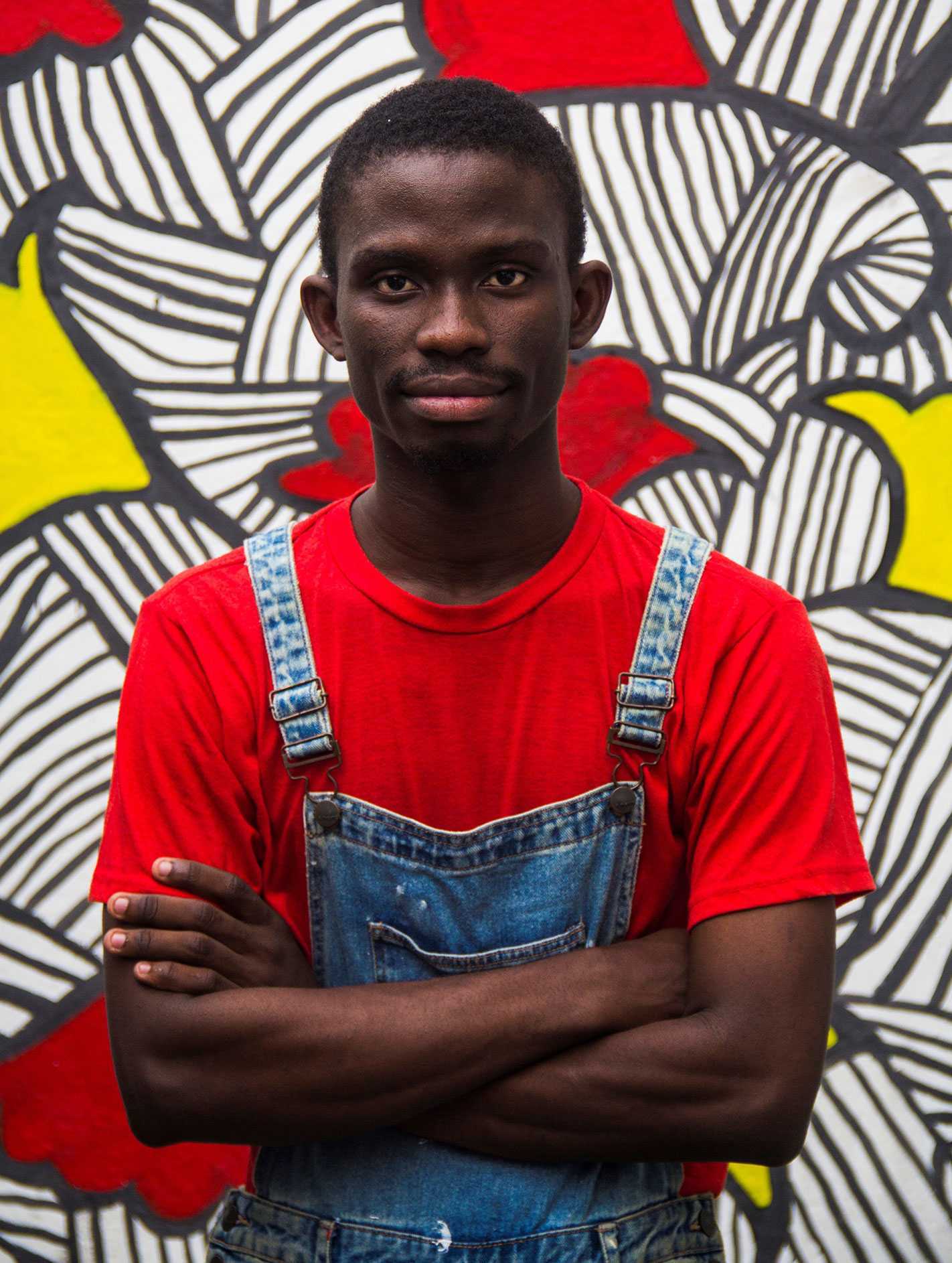 Frigg TOSS
Frigg Toss est un artiste de techniques mixtes qui vit et travaille à Cotonou. Ce jeune béninois, né en 1997, se veut en effet un précurseur en faisant de son art un hommage à l'épure et à l'expérimentation sans tomber pour autant dans l'exercice conceptuel. Son approche pluridisciplinaire (dessin vectoriel, sculpture et photographie) met en avant cette prédisposition à pouvoir s'adapter.
Au départ, Frigg Toss s'initie pendant une année aux arts plastiques avant de s'affranchir des études et de se consacrer totalement à la recherche. En 2018, âgé de 21 ans, il décide de se libérer d'un certain académisme pour explorer de nouvelles voies d'expression. Il va donc tout en s'ancrant dans le figuratif s'exprimer en utilisant divers médiums notamment l'outils digital.
Il observe et scrute son environnement immédiat. Il regarde comment le monde évolue, les yeux ouverts sur une Afrique en pleine confusion et où les évolutions technologiques ouvrent d'autres perspectives.
S'il est pluridisciplinaire, le travail de Frigg Toss n'en est pas moins cohérent. Que ce soit dans le dessin vectoriel, la sculpture ou la photographie sa démarche artistique se veut identique et marque déjà une affirmation, une identité artistique qui lui est propre. Souvent les premières oeuvres manquent d'assurance, ce qui relève de la logique, mais pour notre jeune béninois on sent déjà l'empreinte d'un style, d'une signature.
Quel que soit le médium, quelle que soit la matière on en revient toujours à la même évidence, à une démarche portant en elle diversité et cohérence, sens de la réalité et imaginaire, poésie et gravité, intimité et liberté. Frigg Toss cultive et maîtrise à merveille ces paradoxes.
©Komy Agbogin
Share this news on our social networks!
Devenez un
artiste
de la Galerie ABA
Submit your application to ABA and benefit from career development support, including mentoring, personal coaching and one-on-one counseling with art market experts, collectors, and gallery partners. Our mission is to provide you with a toolbox to help you create value from your creations and to set the positive dynamic in motion through a professionalization process: you will benefit from technical assistance in personal branding and public relations..